Google Nexus 10 Tablet Review
$399.00
Better than
93%
of Reviewed Tablets

Screen
Screen
Measuring in at 8.5625 x 5.375 inches, the Google Nexus 10's display is thoroughly average among the larger tablets out there in terms of gross size, but it has impressive measurables like a bright screen and unprecedented pixel density. Couple that in with an anti-glare coating, and you've got yourself an impressive screen with an unusual LCD. Instead of an IPS (in-plane switching) display, it uses a plane-to-line display (PLS) that increases viewing angle and potential brightness.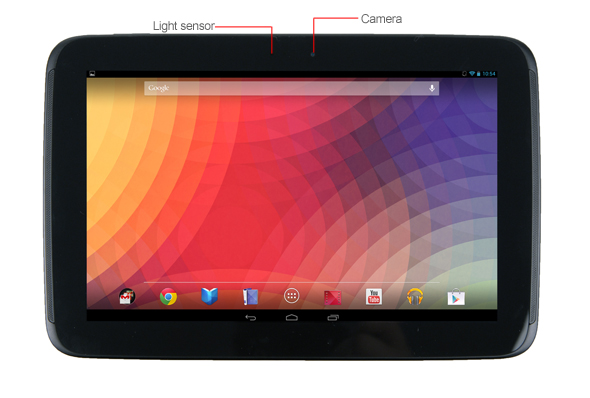 Indoor & Outdoor Use
As a result of its low reflectivity and relatively high peak brightness, the Google Nexus 10 can be taken outside, though like most tablets, it does not handle direct sunlight very well. Because LCD screen rely on their own backlight to make their image seen, bright ambient light can overpower the backlight and make your picture seem washed out.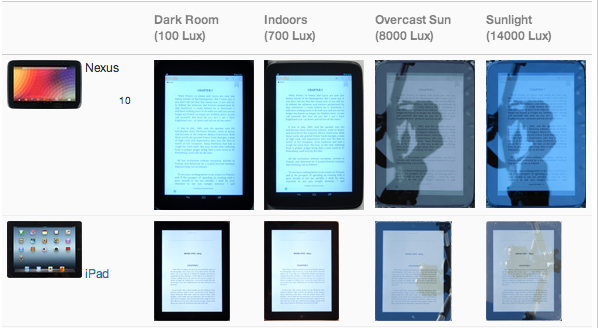 NOTE: The images above are shot with a variety of lighting sources, which may cause some color shift.
Legibility
With a density of 299 pixels per inch, the Google Nexus10 has a screen that can display images more crisp than any other tablet currently. Even if you have better than 20/20 vision, you are unlikely to see any pixels in normal use, unless your source material (like images, video) are of a lower resolution.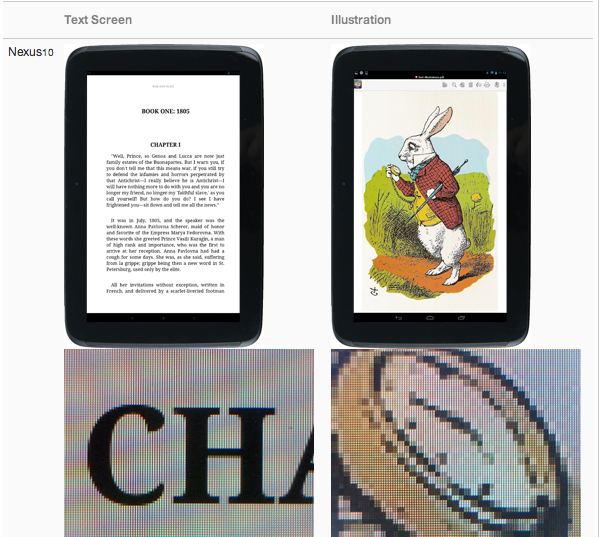 Reflectance
Though it's an uncommon feature, the Google Nexus10 s actually have an anti-reflective coating that does a fairly good job overall at dispelling annoying reflection patterns from your screen. Only reflecting 3.8% of ambient light back at the user, the Google Nexus10 's screen scores well in this area.
Screen Size & DPI
By cramming in 2560 × 1600 pixels into a display that occupies 8.5625 × 5.375 inches of real estate, the Google Nexus10 has a pixel density of 299 PPI (pixels per inch), which at the time of release is the highest on the market. What does this mean for you? Well, in addition to being able to view high-resolution media on a large screen with no visible pixel lines, you'll have one of the most crisp screen images available to tablet owners.
Blacks And Whites
Despite the Google Nexus10 's high peak brightness of 432.48cd/m2 the contrast ratio of the tablet is cut short by the high black level of 0.64cd/m2 . A wide contrast ratio (anything above 1000:1) is important in order to display a large number of values in greyscale for picture detail, but when it's narrow (for example, the Nexus10 's 686:1 ratio), your picture will look washed out.

Color Gamut
Yikes. This is bad, especially when you consider just how far other displays have come in the last year. While the white point is just about where it should be, none of the reds, greens, or blues are in a good spot. Reds and greens are undersaturated, meaning the deepest values of each are not as intense as they should be, and blues are shifted wildly to a more cyan-ish color.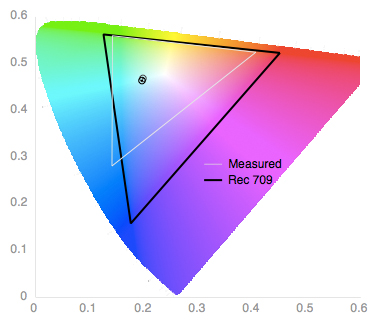 Battery Life
After subjecting the Google Nexus10 to a series of battery tests, we've concluded that it does a fairly good job of maintaining a charge, though the screen is a bit of a power hog. In our labs, the Nexus10 was able to read War and Peace for 6 hours, 39 minutes, and it was able to play one of the worst movies of all time for 5 hours, 57 minutes. Because we perform these tests at full backlight and all wireless/extra processes disabled, your mileage may vary in terms of battery life, and in fact we experienced this for ourselves.
There are many strategies you can use to increase your battery life, like turning down the backlight, but one of the many different capabilities that you earn by buying a Nexus device is the ability to root it and install your own ROM on there. Some of these have been purported to use less juice for basic tasks, but of course, doing this comes with its own risks. If you don't know what I'm talking about, you should probably not venture out into the world of hacking your tablet until you learn a bit more.