Google Nexus 7 Tablet Review
$199.00
Better than
99%
of Reviewed Tablets
eReader
Reading Books
Reading books on the Google Nexus 7 is a rewarding experience, whether you use the Play Books service, or any one of the other eReader applications on the Play Store. Because you have the freedom to choose what you want in an eReader app, and a device that is not only easy to hold, but has a great resolution, the Google Nexus 7 is one of the few tablets that actually function well as an eReader.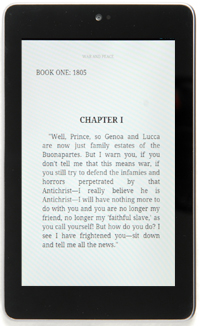 Buying Books
Because Android allows you access to all sorts of different stores, you can choose which market you want to use primarily. However, with the recent bolstering of the Google Play Store to supplement the launch of the Google Nexus 7 , it's worth the time to check out their selection of eBooks.
Once you've linked your tablet with your Google account and added your billing info, you can explore the Play Store for the title you'd like. After you've found that, you can simply tap the "Buy" icon and have your card automatically billed. If you've done all this, your download will start and finish very quickly, assuming you have a stable wireless connection.
eBook Formats
One of the great things about owning an Android device is the fact that it gives you such a huge range of options. If you have a big library built up from another device or computer, you can always find another eReader app to handle the other file formats, or you can simply change their filetypes using a converter program like Calibre.
Newspapers & Magazines
With the latest version of Android, you can subscribe to your favorite periodicals through the Play Magazines app, or keep up with online news with Google's Currents app or the ever-popular Flipboard app.