HTC EVO View 4G Tablet Review
$349.99
Better than
0%
of Reviewed Tablets

eReader
Reading Books
Because the HTC EVO View 4G has access to Google's Play Store, you are given the option of using Google's proprietary eReader application, Amazon's eReader application, Aldiko reader, or any one of many others. It should be noted that many of these eReaders don't exactly play nice with each other, as they use different file formats for their eBooks, so you can't always read something bought on one reader with another.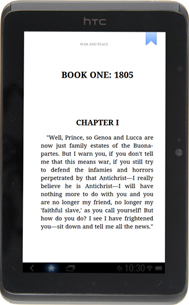 Reading books on the HTC EVO View 4G is a very natural experience, and functions in the way it does on just about every other tablet with a capacitive screen. While controls, fonts, and advanced options vary with whichever app you use, the overall look and feel of reading an eBook on the HTC EVO View 4G will be very similar. Text is crisp, and the tablet itself is very light, so arm fatigue won't be an issue if you hold it in one hand. Be sure to give different eReader apps a shot before settling on one you like, as you may find some cool features out there. Lucky for you, most eReader apps worth their salt are free in the Play Store.
Still, if you like features like text highlighting, whispersync, and sharing passages via social media, there is no better app than the Kindle App currently. Play Books is still a little rough on the edges: it does what it's asked, but pretty much nothing else.
Buying Books
If you're using the Kindle App, buying books is easy. Once you create an account complete with billing information, you can either search for your title, or browse for one using one of the many lists (like bestseller, new releases, etc). Once you've found a title you'd like to buy, simply tap the buy/download icon, and your title will begin downloading once payment clears.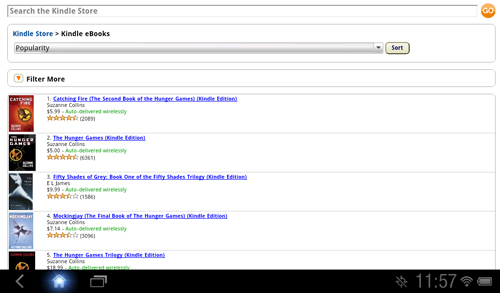 eBook Formats
As the HTC EVO View 4G is an Android tablet, if your stored library of eBooks does not work on your app of choice, be sure to check out the Play Store to see if you can find an eReader that offers support for those files. If not, you can always use a converter program like Calibre to change them to the format of your choice.
Newspapers & Magazines
If your eReader app supports it, you can also purchase individual issues or subscribe to periodicals. To do this, you create your account complete with billing info, and then tap the purchase/download icon on the title you would like to read. Should you subscribe, many apps offer an automatic download when new issues come out, provided you have an internet connection at the time.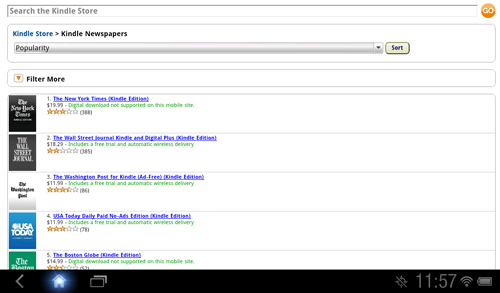 eBook Battery Life