Samsung Galaxy Tab 2 10.1 Tablet Review
$499.00
Better than
73%
of Reviewed Tablets

Music & Audio
Music & Audio Controls
Included in the Samsung-altered version of Android 4.0.4 is the Play Music app by Google, which enables you to stream your music library from Google's servers wherever you have a stable WiFi connection. Controls are as simple as they are on any other music player, but much more visually appealing. There's the standard play/pause icon, track forward/backward icons, and the regular advanced controls like the shuffle and repeat functions.
Music & Audio Management
What isn't so standard is how you browse your music with the Play Music app, as you have a couple options available to you. Sure, you could use the list format, but that's boring as hell, right? The cover flow option lets you thumb through your music much like you would a shelf of records, and with a touchscreen tablets, that's pretty cool to look at.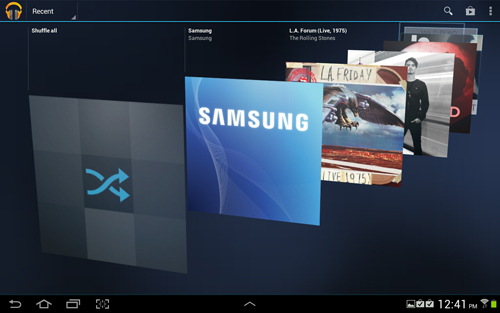 Because the Samsung Galaxy Tab 2 10.1 is an Android tablet, all music downloaded should go in the pre-existing "music" folder, or in some cases the "download" folder. Though you won't need anything more than a USB cable to mess around with file management if you have a Windows or Linux computer, you will need to use the Android File Transfer utility on Mac computers.