Toshiba Thrive Tablet Review
$449.00
Email & Web Browsing
Email
For those of you who want to check your email on the go, the Android 3.1 operating system gives you the ability to set up POP/IMAP inboxes, as well as use your Gmail account in a rather attractive and well put-together interface designed by Google. Reading email is easy on the giant 10 inch screen, and composing new messages is easy with the large keyboard with haptic feedback.
Web Browsing
The Toshiba Thrive 's browser is the same, clean, chrome-based utility that we've seen on the other Android 3.1 tablets. This is a very good thing: not only is it very functional, but it is very visually attractive, and light enough to perform without too many hiccups in performance.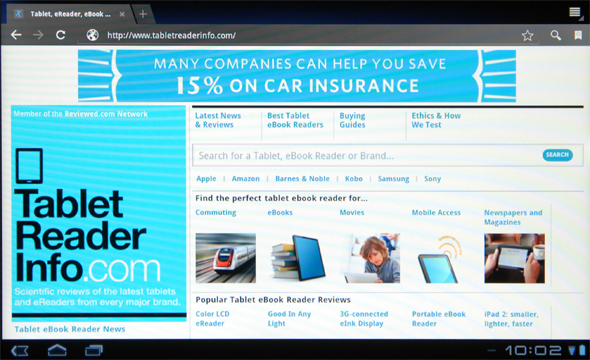 Once your browser is open, you can either browse in one tab or many, using the URL bar at the top to enter in your intended destination. What sets Android 3.1 devices apart from the iPad is the embedded flash support that the Toshiba Thrive and others have. Want to go watch a flash movie on the iPad? Can't do it. Want to watch a flash movie on the Toshiba Thrive ? Load it up, it'll work fine!